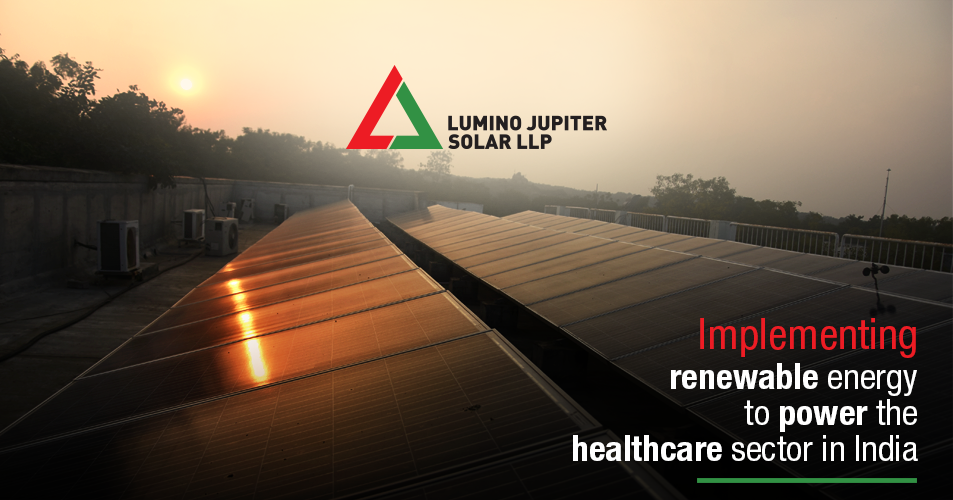 Hospitals use at least three times more energy than a typical commercial building. The healthcare sector needs uninterrupted power supply throughout the year. There are more than one billion people residing in rural regions of India without sufficient medical facilities due to their lack of access to electricity. To offer seamless healthcare services in need, the challenge is to overcome this crisis first.
Considering the limitations associated with natural resources, increasing demand of energy with growing population and higher energy bills; industries have started implementing green and eco-friendly energy to lead them towards a promising future.
Current scenario
The tendency of switching from conventional to green energy in the healthcare sector is influenced by several market trends:
Due to recent technological innovations, the overall market price of solar panels has become much more reasonable.
The government has a plan of providing all Primary Healthcare Centres with rooftop solar energy system. Community Health Centres might be a part of this project too.
Considering its long term economic benefits, industries are taking more interest in the renewable sector.
Industries are looking forward to a transition. Experts are anticipating a remarkable improvement both in the sectors of health and energy. Solar power will boost economic development serving healthcare needs at large.
The need of solar power in healthcare
Every industry looks for ways to sustain, remain relevant and fulfil purposes of their target market. As far as public services are concerned, they look for maintaining sustainability and increasing reach for all over national development. Firstly, lack of access to power has been a consistent issue for rural India. Secondly, the current power system has already been declared as inadequate to meet existing demand of urban regions. Due to excessive usage of diesel-run generators, both the expenditure and level of pollution are increasing day by day. With solar power, rural communities are expected to receive improved healthcare and uninterrupted electricity. Simultaneously, the urban healthcare sector can take part in energy conservation and remain cost effective too.
Andhra Pradesh Government has applied the green hospital concept to reduce electricity consumption rate of multi and super speciality hospitals located in Visakhapatnam city. Large urban healthcare settings are now able to save 1/3 of their electricity bills and reduce carbon footprint at the same time. Moreover, Gujarat has taken initiatives to operate hospitals entirely dependent on solar power. As a result, 24×7 intensive healthcare services are available at affordable costs.
Benefits of green and clean energy
Benefits of renewable energy can be defined well with the word sustainability. It generates green energy reducing dependency on conventional sources of fuel and also has immense potential of creating jobs in manufacturing and installation units. Hence, economic development depends largely on the renewable energy sector. Additionally, it has zero negative impact on the environment.
24×7 power supply:
Numerous diagnostic and critical care units under hospitals require disruption free, round-the clock power supply. Starting from refrigerators, air conditioners to surgical and other medical devices need power support on a day to day basis. Improved facilities cannot be guaranteed with lack of access to uninterrupted electricity. To resolve such issues, hospitals must invest in sustainable energy to remain power independent. In case of power outrage or to carry out emergency diagnosis, in-house solar power plants can provide them back-up for longer hours. Green generators do not produce harmful fumes and loud sounds which help to maintain the peaceful and clean environment of hospitals.
Ease of installation:
In general, healthcare centres and hospitals are built on large acres of land. In rural areas, vacant lands often surround primary healthcare units too. Such surplus areas that receive adequate sunlight throughout the year are ideal for installing solar solutions. Additionally, hospital buildings have vacant rooftops open to sunlight, and are ideal for solar installation as well. Measuring the capacity and condition of both roof and land installation can be performed easily. Panels do not have any moving parts; hence they are not prone to easy damage. Hence, maintenance cost remains low and the system continues to add value to the regular healthcare operation.
Improved quality of service:
Frequent power cuts or voltage issues are major concerns in the way of providing seamless services. Maintaining a 'cold chain' for various medicines and vaccines is essential. With solar power the maintenance of such medical consumables becomes easy, their supply can be balanced with increasing healthcare needs and medicines do not get wasted due to wrong temperature settings. Remote healthcare units will be able to provide basic medical and surgical necessities while for super speciality units the process will be highly cost effective.
Cost effective and eco-friendly:
Solar power helps to cut-off costs on energy bills. There will be no electricity bills apart fromminimum maintenance costs for at least 20 years. Health facilities might utilise investing the savings into other priority healthcare projects. As compared to the cost spent on diesel run generators, solar power helps in saving up to 40% in specific facilities.
A sustainable investment:
Solar power ensures improved and seamless healthcare facilities to rural and remote healthcare settings in particular. By investing in green energy, the government can provide health benefits to a larger number of people. Working closely with local authorities and communities such investments give hope of a better tomorrow.
Conclusion
Green energy not only ensures uninterrupted supply of electricity issues relating to power cuts and high-voltage usage but also helps the healthcare sector to stand firmly against climate change and natural calamities. Healthcare industry can save on power, money and offer facilities at comparatively lower costs. If the preference can be shifted from conventional to solar energy entirely, the percentage of greenhouse gases will drastically reduce in our environment. With financial incentives and lowered taxes, the installation procedure has become more feasible than ever before. Furthermore, national development is assured with more savings and smart investments on priority facilities and projects.